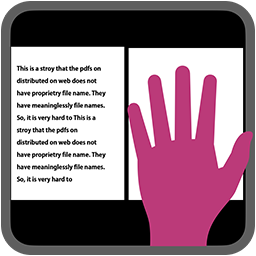 For macOS 10.13, 10.14, 10.15, 11.0 (10.16)
This app remove white pages from PDF.
Privacy policy:
This app does not treat user's privacy information.
Contact:
If you need to contact with the developper (Takaaki Naganoya), please write email to me.
Q&A:
Q1: Does does not recognize PDF documents. Why?
A1: RBC ignore rastered image PDF (ex.Scanned Image PDF, screen capture image PDF) which does not include text information.
Q2: The selected PDFs are not shown in file name report dialog. Why?
A2: RBC can process PDFs not password protected. If you can't open PDFs without password input, RBC can not open them. If you can't select and copy PDF's body text on Preview.app, RBC can not process it.
Q3: RBC can not select PDF. Why?



A3: RBC v1 select target folder not target PDF (the dialog is folder selection dialog). Click "Choose" button on selection dialog to process whole PDFs in the selected folder.
If you want to process one PDF, you'd better to make new folder and put on it (one PDF in new folder). RBC can select new folder and process it.
–> v1.1 will have "Proc one PDF" function
(Visited 132 times, 1 visits today)