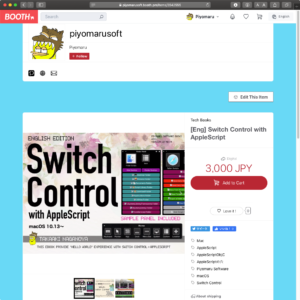 This is an early access program. This ebook is in progress, not finished. The early access reader can read it with agreement. The early access readers can make request to author during works (every request will be discussed, without 100% guarantee to be realized). 65 pages (today). Price: JPY 3,000.
This ebook "Switch Control with AppleScript" is a book about Switch Control. It is one of accessibility function for people with disabiulities. But it is very useful for every macOS users specially for the scripters.
Switch Control can launch AppleScript or run keyboard shortcut sequence. We can make button-based simple GUI for AppleScript. It is the easiest environent to make GUI.
This book will contain author's sample Switch Control. It is useful and gives you a power of automation for macOS users.


(Visited 76 times, 1 visits today)